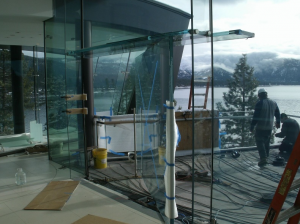 Would you like to be able to take control of the windows in your building and tint them as needed? You can do it by installing electrochromic glass, which is also commonly called smart or dynamic glass.
If you're not familiar with electrochromic glass, it's a form of glass that can be electronically tinted whenever you want. It's often used when creating windows, skylights, curtain walls, and more. You can make a room more comfortable, allow more daylight to shine in, give yourself better views, and even cut down on your energy costs by putting in electrochromic glass. It's ideal for classrooms, retails spaces, museums, and other buildings that consider solar control to be an issue. It'll put you in total control of your window tints.
How does electrochromic glass work?
The coating that is used to create electrochromic glass typically consists of about five very thin layers that are used to control the tint on glass. That tint is controlled by voltage that is applied directly to the glass. When you apply voltage to the glass, it gradually makes the electrochromic coating darker as lithium ions and electrons in it move from one layer of the coating to the next. Then, when you take the voltage out of the equation, the ions and equations go back to where they were at the beginning and eliminate the tint from the glass.
Although electrochromic glass does rely on electricity to some degree when you control it, it isn't much electricity at all. Additionally, electrochromic glass gives you the option to use sunlight to your advantage during the day, which can cut down on the amount of electricity you're using as a whole.
If you would like to find out more about all things glass related, contact the glass experts at Bent Glass Design. Call us at 215-441-9101 for additional information or request a quote today!