Whether you are in need of glass bending solutions, chemically strengthened glass, or any other type of curved glass, the team at Bent Glass Design is here to help. We offer a large selection of glass types that are useful for a wide range of architectural and specialty applications. From glass that has a slight curve to glass that curves more than 90 degrees, we offer something for everyone. Of course, we can tailor our glass manufacturing services to meet your needs, and we even have additional options to choose from like chemically strengthened glass.
In addition to choosing between different degrees of curved glass, you can further customize your order by specifying the type of color and shape you would like your glass to be. If you would like more details about any of the different glass capabilities we have available, get in touch with the Bent Glass Design team today!
Here is a complete list of the types of glass we have available:
Uncoated clear, ultra-clear, or tinted
Pyrolytic reflective and low E coated
Spandrel
Wired
Patterned
Bent Glass Design also provides a variety of edgework options including seamed, pencil ground, pencil polished, flat ground with chamfer, and flat polished with chamfer. Technical assistance is always available to assist you during the design phase of your project.
Chemically Strengthened Glass
Bent Glass Design can provide additional strength to glass lites through a chemical strengthening process known as ion-exchange. The glass is submerged in a bath of potassium nitrate where the large alkali potassium ions exchange places with the smaller alkali sodium ions in the surface of the glass. Because chemically strengthened glass breaks in a pattern similar to annealed glass, it is not used by itself as a safety glazing material. It can be laminated for a variety of architectural, security, and transportation applications.
Shapes
The following shapes are available for bending:

Type A:
Shallow cylindrical bend; arc not to exceed 58 degrees

Type B:
Cylindrical bend; arc exceeds 58 degrees but not 90 degrees

Type C:
Curve-plus-tangent with curve limited to 60 degrees. Tangent may not constitute more than 1/3 of the total girth

Type D:
Curve-plus-tangent with curve not exceeding 38-1/2 degrees of arc. Tangent may not exceed the arc
Type E:
Curve-plus-tangent type has a tangent not more than twice the curve and curved portion not exceeding 90 degrees of arc

Type F:
Curve exceeds 90 degrees but not 128 degrees

Type G:
Non-circular curve. Shape is that of a shallow letter "S"

Type H:
Central curve flanked by tangents which may be equal or unequal. The curve may not exceed 90 degrees, and both tangents together in length may not exceed 1/4 the total girth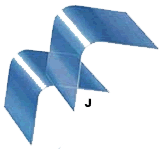 Type J:
Tangent-plus-arc-plus-tangent; curve 90 degrees or less, the tangents together, equal or unequal, not to exceed 3/4 of the total girth

Type K:
Curve exceeds 128 degrees but not 180 degrees

Type L:
Two curves of like radius and each not exceeding 90 degrees with a common tangent between them

Type M:
Deep-curve-plus-tangent; curve will exceed 90 degrees of the arc