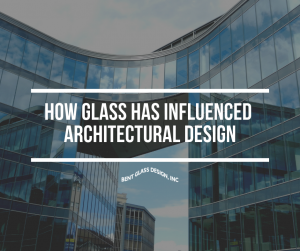 ---
You can count on glass to enhance your next architectural project. At Bent Glass Design, we offer glass that is ideal for a wide range of architectural applications, such as skylights, doors, windows, and even interior partitions. We design our products to suit your specific custom architectural glass needs.
When you purchase architectural glass from us, we guarantee it will meet all industry and safety standards. However, that doesn't mean that the glass we create is the same as others. We always strive to ensure that each glass product we produce is innovative and unique. Our custom architectural glass can make your building better in a variety of ways, including its aesthetic appeal, safety, security, structural, and acoustic performance.
We have been making useful and long-lasting architectural glass panels since 1988, so we want to share our vast knowledge with you.
Decorative Glass
Architectural glass, such as tinted and pattern glasses, add a decorative component to glazing design. Bent Glass Design offers many different possibilities in the area of specialty glass.
Safety Glass
Safety glazing was first regulated in the late 1970's when the Consumer Product Safety Commission standard 16CFR Part 1201 became a federal regulation. Today tempered or laminated glass can be used in safety glazing applications to reduce the possibility of severe cutting or piercing injuries after breakage.
Security
Laminated glass can be constructed to provide forced entry, ballistics, blast, and severe weather protection. The number of glass plies and the thickness of the interlayers will depend on the intended use of the product. The key benefit of laminated glass is its ability to retain glass fragments after breakage. Additionally, broken laminated glass serves as a barrier to entry. Underwriters Laboratories (UL) and ASTM International standards provide the basis for glazing performance in each of these applications.
Sound control
Laminated glass interlayers can help to improve sound control over the entire frequency range. In addition, monolithic glass lites, as well as laminated glass lites, can become part of an insulating glass unit to further improve sound attenuation.
There are other advantages to bent insulating glass in the area of energy efficiency. Insulating glass improves thermal performance and can save you a significant amount of money on your energy bills.
If you're searching for a credible architectural glass manufacture, look no further than Bent Glass Design. Our architectural glass is available in many different shapes, sizes, and colors and we even have optional edgework services. Contact us for more information about our custom architectural glass or request a quote today!