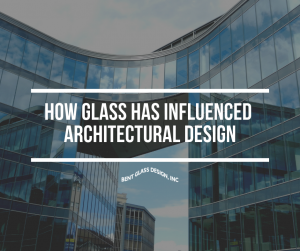 ---
Decorative Glass
Decorative Glass incorporates both color and design and can be accomplished with many types and patterns of glass, as well as tinted laminated glass interlayers.
Glass Options
Many different types of decorative patterned glasses are available. Not all patterns are suitable for bending or laminating.  It is important to review the desired patterns with us to confirm fabrication details.  Glass with textured patterns may affect visibility and the passage of light.
Interlayer Options
We offer a wide array of colored interlayers, that can be specified to meet the color objectives of the design team.  Interlayers can provide translucency as well as color.  We even offer opaque interlayers in black and white that can bring expand the use of decorative glass laminates.
 Whether you are designing for a residential or commercial application, our specialty glass holds a vast array of benefits:
Enhances visual ambience
Reduces transparency while increasing privacy
Allows for more natural light without intrusion
Improves energy-efficiency
Safety Glass
Safety glazing was first regulated in the late 1970's when the Consumer Product Safety Commission standard 16CFR Part 1201 became a federal regulation.  Today tempered or laminated glass can be used in safety glazing applications to reduce the possibility of severe cutting or piercing injuries after breakage.
Security
Laminated glass can be constructed to provide forced entry, ballistics, blast, and severe weather protection.  The number of glass plies and the thickness of the interlayers will depend on the intended use of the product.  The key benefit of laminated glass is its ability to retain glass fragments after breakage.  Additionally, broken laminated glass serves as a barrier to entry.  Underwriters Laboratories (UL) and ASTM International standards provide the basis for glazing performance in each of these applications.
Sound control
Both laminated glass and insulating glass units are used to improve sound attenuation. Standard PVB interlayers, as well as specially formulated acoustic PVB interlayers reduce sound transmission to create a more comfortable building interior.
In addition to its sound control benefits, bent insulating glass improves thermal performance, another important benefit in terms of energy efficiency.
If you're searching for an experienced, reliable architectural glass manufacture, look no further than Bent Glass Design. Our architectural glass is available in many different shapes, sizes, and colors and we even have optional edgework services. Contact us for more information about our custom architectural glass or request a quote today!