Bent glass has become very popular in modern architecture, bringing a delicate feel and aesthetic appeal to buildings and structures around the world.
As experienced glass manufacturers, we have shaped glass into a multitude of custom designs and structures.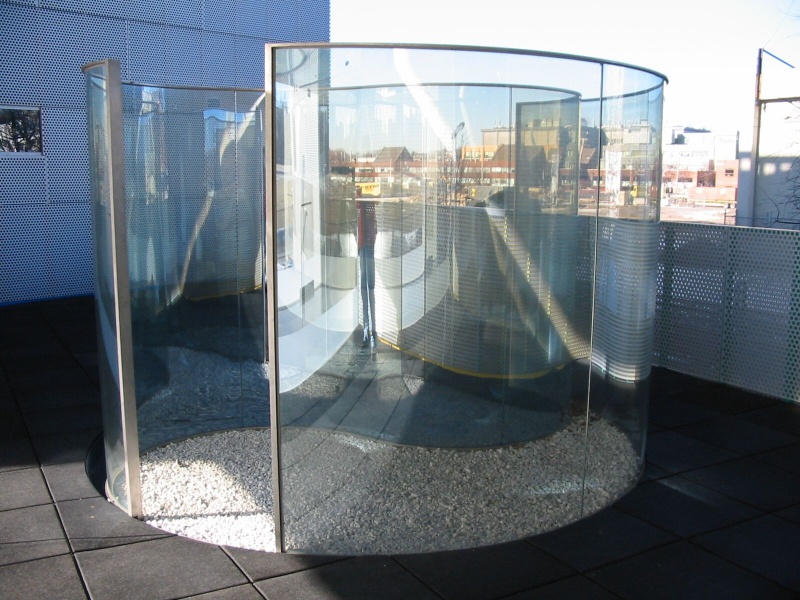 This is all due to the beauty and flexibility of the glass itself.
The malleability of glass gives the creator a certain sense of freedom in design to mold the material in many versatile ways. From customizing interlayers with different hues, to adding artistic patterns and texture, our team will be able to craft the glass piece to meet all your needs.
Our elegant architectural glass has been used in several exterior applications and in a variety of styles.
Our curved and bent glass is manufactured to meet any necessary size, shape, and color specifications, making every project unique and customized to the client.
Bringing Architectural Glass to the Outdoors
Architectural glass is seen most often in exterior applications, whether it be a statement piece or the glass windows of a building. This is due to the fact that many discovered the many creative benefits that architectural glass held for their pieces.
Incorporating glass allows you to transmit as much natural light as you want into the interior of a structure or through an architectural piece, adding dimension and intrigue to your design.
Architectural glass is also built to be more conducive with an outdoor environment when you utilize laminated glass that is bonded together with an interlayer. This interlayer works to hold the glass pieces in place if ever there was an unfortunate force of impact, due to inclement weather or the like.
Exterior Architectural Glass Applications
There are many different ways you can utilize glass in architecture:
Windows & Doors
Striking architectural buildings must be accompanied by equally striking architectural glass.
Shaped to fit in-line with the structure and enhance the overall dynamic, bent glass can bring new light, colors and dimensions to a beautiful building, like the Aldar Headquarters in Abu Dhabi.
Domes & Barrel Vaults
Bent glass ceilings are quite the architectural masterpieces. The glass works effortlessly to provide natural light inside, as well as a remarkable appearance from the outside.
Elevating the elegance of the structure, you can find gorgeous bent glass domes and barrel-vaulted ceilings in conservatories, cathedrals, and other impressive buildings like the Kunsthaus Graz in Austria.
Handrails
Often, glass railing panels are seen around outdoor staircases, balconies, patios and observation decks.
The bent glass used in these designs adds a new dynamic element to the structures without obstructing the view. Whether it's your back patio or a lookout point over a beautiful waterfall, the architectural glass adds value to the railing system, instead of taking away from it.
Skylights
Offering the easiest way to let some light in, a skylight made with bent glass can add elegance to any piece of architecture.
The natural light and openness to the sky gives the idea of a bigger interior with a lighter feel without actually opening the building up.
Storefronts
Curved or bent glass can make a statement, allowing your store front to stand out among the competition.
Architectural bent glass eliminates the need for harsh edges creating a friendlier and more appealing environment. With a more inviting atmosphere and a better showcasing of your products, potential customers will feel more inclined to come in and take a look.
At Bent Glass Design, we are a team of innovators, designers and manufacturers ready to build custom architectural glass for your next project.
Request a quote today to get started!