Beautiful bent glass has long been a design feature in many notable buildings – some of which you may have seen in the past. Check out some of the famous buildings in the world with distinctive bent glass features
Nationale-Nederlanden Building: Praha, Czech Republic "The Dancing House"
The Dancing House, located in the beautiful city of Prague, Czech Republic is one of the coolest glass buildings in the world.  It was designed by Canadian-American Frank Gehry to resemble Fred and Ginger dancing. There are two buildings attached, one which is a tower of curved glass supported by curved pillars.
National Theater: Beijing, China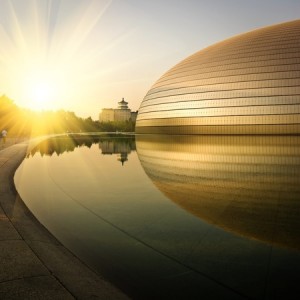 The National Theater in Beijing is meant to look like a large, dome-shaped egg floating on water. The surface area of this curved building is 149,500 square meters and made up of titanium and curved glass. There's no front door to the building, per say: in order to enter the National Theater, guests and musicians walk through a 60-meter-long transparent underpass that runs beneath the lake.
Kunsthaus Graz: Graz, Austria (aka "The Friendly Alien Building")
This impressive feat, designed by Sir Peter Cook and Colin Fournier, has a slight resemblance to an alien, but is known as "blob-shaped."  The Kunsthaus Graz is a well-known art museum that has a very low environmental impact since it's able to generate its own solar power. The exterior is a curved acrylic glass mixture that gives it the distinctive amorphous appearance.
The Rotating Tower: Dubai, UAE
The Rotating Tower, located in Dubai is exactly what it sounds like: a tower that rotates. Designed by Dr. David Fisher, this building is one of the world's first "buildings in motion." Depending on the sun, wind and weather, each floor rotates separately from the ones below and above, so you will not likely ever see the building in the same shape. With an energy-efficient design and tons of curved panes of glass covering the outside, this project is estimated to be completed in 2020.
To see even more inspiring architecture featuring bent glass, check out our gallery page.