Creating anything with a curve to it can be considered just as much an art as it is a science. It adds to the uniqueness of a piece of furniture, a room or a building. But working within that curve, especially when adding different material elements, has its own learning "curve".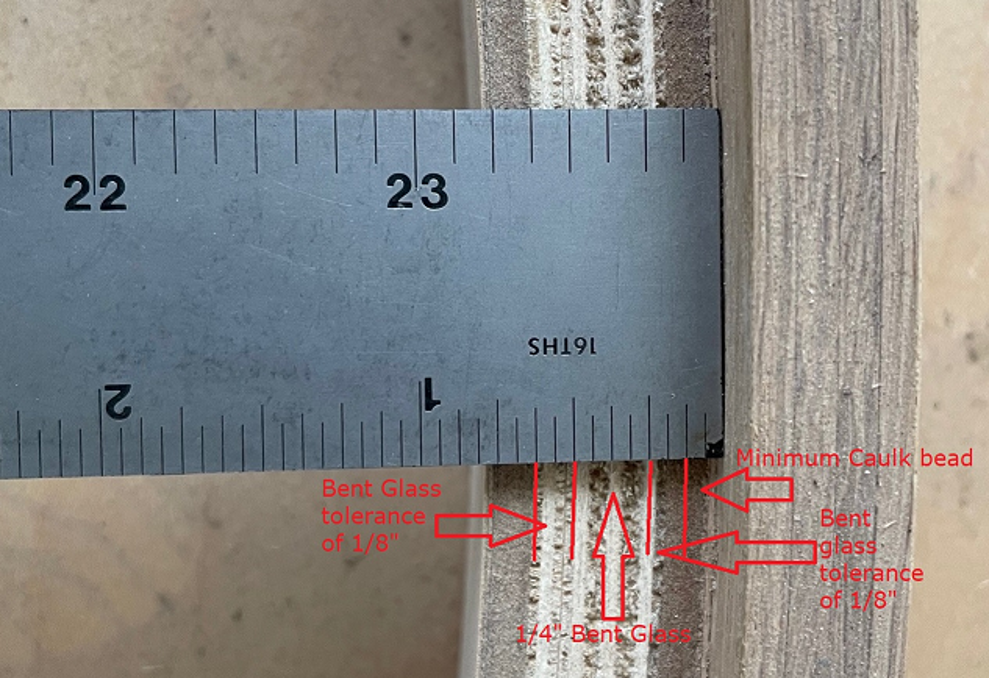 Measuring Accuracy
 A residential client sent his two cabinet doors for us to make curved glass panes. The first problem we encountered was what to measure based on the supplied window frame. The situation was that client designed frame for the glass to be installed from the inside of the curved frame. The physical problem was the size of this inside opening was smaller than the outside front surface dimension. 
While it's completely logical that the outside curve is a greater size than the tighter inside curve, constructing a completed window frame builds in constraints that need to be considered.  For these window frames the rear opening will define the maximum glass size.  Consequently, if the glass is produced too small then the wood flange will not cover the glass edge.  For these frames the outside rough opening measured 26.45 inches with the rear daylight opening around 25-1/2 inches.
Our Recommendation: Design the frame so that the glass can be installed from the outside against the inside fixed flange. By installing the glass this way, you will have maximum clearance and maneuverability.  Also, design with the expectation that the glass may have to be removed in the future, so it is important to be able to do so without damaging the window frame.
Curved Glass Tolerances
Another problem with these cabinet doors was the flange size and failing to account for curve glass tolerances. The flange surface was too narrow for the glass to work for this type of frame.
Customer Note:  Make sure you know the manufacturing tolerances.  The design needs to balance the glass, frame, and installation tolerances to ensure the best fit possible.  Ask the glass manufacturer what the specific glass tolerances apply to your application.  See ASTM C1464, Standard Specification for Bent Glass, to understand the laundry list of defined tolerances that apply to bent glass. For the supplied frames, the exterior flange was only 7/16".  The glass must sit on some sort of setting block to float the glass and avoid any hard contact points.
At Bent Glass Design, we can help you with your curved glass designing needs. We will work with you to design the specific elements for your project.
Contact Bent Glass Design at 215.441.9101 today or visit us online for more information!