One beautiful way to update your bathroom in an attractive and sleek way is installing a frame-less bent glass shower. These curved shower stalls are an elegant addition that allow for complete customization. Regardless of the amount of space you have, there are plenty of great reasons to install one in your bathroom.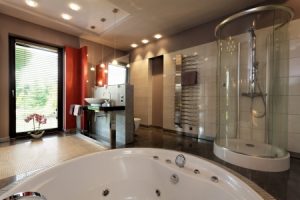 Easy Cleaning!
A frame-less bent glass shower is easy to clean, which is another beautiful perk to have because no one enjoys cleaning anything in the bathroom. The metal track in a typical shower stall has a constant build-up of corrosion that is tough to clean, but with a frame-less glass shower, your job is to wipe down the glass to get rid of streaks.
It Complements Your Tile
For bathrooms with beautiful tile work and fixtures in the shower, a bent glass shower allows you to show off your style and incorporate its elements seamlessly into other areas of the bathroom. Whether your shower stall is minimalistic or a dramatic, tiled work of art, a glass stall will allow you to put it on display in a sleek and modern way.
It Creates More Space Mentally
It may not actually create more space in your bathroom, but mentally, it seems as if there is more room.  You can customize the door of the shower stall to open inward or outward. Plus, having a bent glass shower stall creates an illusion that there is an open feel, since there are no traditional barriers with the stall.
Home's Value Increases
When it comes to updating your home, sometimes it is tricky to decide if the changes you make will benefit you in the future. A frame-less bent glass shower is an extremely popular addition that can easily increase your home's value. Simple in style and easy to adapt to any homeowner's style, a bent glass shower is a smart investment that can be enjoyed for years to come.
Here at Bent Glass Design we specialize in creating one-of-a-kind bent and curved glass constructions for architectural applications, lighting fixtures and more. To learn more about our services or to receive a quote for your project, call us today at 215-441-9101.