Visual Millwork & Fixture Manufacturing Inc (VM) is a custom millwork manufacturing company located in Deer Park, Long Island. It is 4 generations strong with more than 85 years of experience. The offices and manufacturing are housed in a 100,000-sf facility. The onsite fabricators work not only with wood but PLam, acrylic, solid surface, metals, custom finishes, as well as glass. VM works in all sectors, including retail, corporate, healthcare and workplace.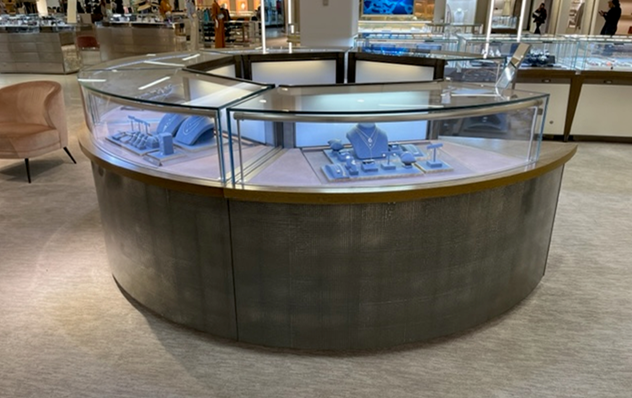 Collaboration with Bent Glass Design
Recently, VM has worked with Bent Glass Design on a refabrication of jewelry cases incorporating flat and curved laminated glass. Low iron was specified to enhance the viewing experience.
While glass is a given as a means of showing off merchandise, laminated glass provides safety and security besides the visibility of standard glass. Laminates are fabricated with a tough interlayer that bonds two plies of glass together. If breakage should occur, the broken glass adheres to the interlayer, creating a barrier to entry. In addition, the laminate interlayer blocks up to 99% UV, a common cause of fading.
Low iron glass has less iron than standard clear glass, giving it a more transparent and color-neutral appearance. Clear glass often has a slight greenish tint, which is eliminated in the low iron alternative. This feature is especially desirable when glass is used in jewelry casework.
Laminated Glass from Bent Glass Design
At Bent Glass Design, we specialize in providing laminated glass designing for a plethora of applications.
Contact us today at 215.441.9101 or visit us online for more information!