Laminated glass was invented more than 100 years ago by French chemist Édouard Bénédictus, but it's only recently starting to get the popularity it deserves. Why is it gaining popularity? Here are some reasons why laminated glass is getting some buzz.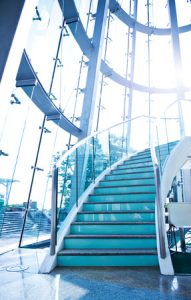 The Benefits of Bent Laminated Glass:
Laminated glass is constructed by bonding two or more layers of bent glass with one or more layers of plastic. There are plenty of benefits with that comes with laminated glass. For one, there are a variety of uses with the complex shapes that can be constructed with laminated glass. This helps with different markets because you'll be able to use laminated glass within the automotive and architectural industries. Other reasons:
Sound Control
UV Protection
Energy Control
Bullet Resistant Bent Glass
Laminated Glass is Pretty Safe
Laminated glass has actually been used in the automobile industry for more than 50 years now—and it's pretty easy to see why. Laminated glass doesn't fall apart when it breaks.  The plastic layer holds the broken glass together, so it's safe to use for car windshields and windows. More and more buildings have started to use laminated glass for this same reason and local building codes are starting to mandate its use for applications such as balcony handrails.
Laminated Glass for Several Architectural Designs
Many designers, contractors, and architects have incorporated bent laminated glass into their building designs. They are able to do all sorts of wild things with laminated glass that wouldn't be possible with other types of glass under other circumstances.
Laminated Glass for More Than Just Windows
When most people think of glass, they think about windows. But laminated glass has shown that glass can be used for all sorts of things. Builders are starting to use laminated glass more and more to put together railings, staircases, and more. Laminated glass can even be made to create floors, ceilings, and other structural elements that will change the way people look at glass forever.
Bent Glass Design
At Bent Glass Design, we create bent laminated and insulating glass for the project of your choice with custom sizes and dimensions for your specific needs. We take pride in the quality of our glass, assuring you that our bent glass is more than just visually appealing. Contact Bent Glass Design at 215-441-9101 today for our help on your next project.