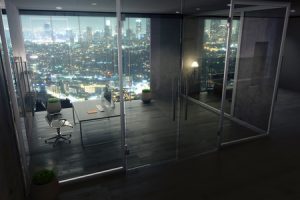 Have you been thinking about installing glass doors inside of your home or business? While some people worry about keeping them clean and the inherent lack of privacy that comes along with glass doors, there are also so many benefits that you'll get to enjoy with them.
Take a look at just a few of the advantages of glass doors below:
Glass doors make any space feel more open
If you want to make a space feel more open, using glass doors is a great way to do it. Glass doors won't make the rooms in your home or business feel closed off at all. You'll be able to see everything going on around you, and that will make your space feel bigger than it actually is.
Glass doors allow tons of sunlight to shine throughout a space
Most people enjoy when sunlight comes spilling into their home or business. You'll get plenty of sunlight when you have glass doors installed. The light will help raise the energy levels of those in your home or business and boost their mood. It'll also reduce your energy costs when it gets cold out as you won't have to worry about heating up your space as often as usual.
Glass doors prove to be easy to maintain
Although many people worry about glass doors getting smudged up, they're actually easier to maintain than you might think. All you'll need to do is wipe glass doors down with a soft cloth every now and then to prevent dirt, debris, fingerprints, and more from building up on them.
Are you considering glass doors for your home or business? Bent Glass Design manufactures glass that can be used in doors, windows, skylights, and more. Call us at 215-441-9101 today to discover how we can help you obtain beautiful glass doors.