When you are describing a piece of flat glass, it comes down to three dimensions—the thickness, the length, and the width. With bent glass, the thickness is easy to specify, but it gets more complicated to specify the dimensions related to shape. Here are the terms that you will need to specify when describing bent glass:
The girth (arc) length (between points A and B) around the curve is a measurement that is taken with a flexible tape on the convex face of the glass.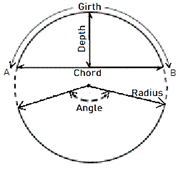 The depth is the distance between the chord (line segment between two points on a given curve) and the highest point of the curve.
The angle is the degree measurement from the two radii end points on the girth of the bend.
The height or width of the glass is the length of the glass.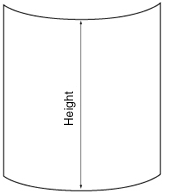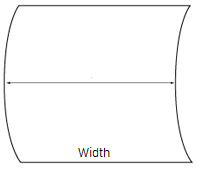 The radius is the length from the center of a circle to the intersection point on the girth (arc). Another term is the diameter, which is twice the radius length and is a line that intersection the center of a circle.
If you are confused, don't be.  Our Customer Service representatives stand ready to help you with your specific requirements. For more information on the process and measurement of bent glass, contact Bent Glass Design at 215-441-9101 today or visit us online.