Glass can be a creative material to use in your home. Glass designs have come a long way throughout the years and incorporating them in your home can give it a great look to your home.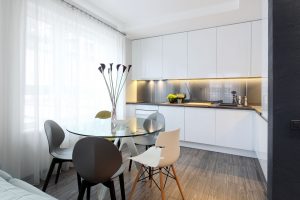 Here are some cool options for using glass:
Kitchens and Bathrooms
Glass tiles in your kitchen or bathroom can create a unique-looking space, which will attract your guests. Outside of the fact that glass tiles come in a range of colors, they're also very strong and waterproof. They will look right at home when you choose the right style of glass tiles for your house.
Staircase Railings
Glass railings seem a little strange to have in your home because usually you see wood or metal railings with your staircase in your home. But if you are looking to go a little more modern, glass railings, as well as glass staircases can add a sleek, modern look to your home.  
Coffee and Dining Tables
Glass coffee tables or dining tables can add an open concept to your space, especially in the living room with a glass coffee table. It creates this attractive illusion to your room that will make the room look more spacious and comfortable to be in.
Hanging glass doors in bathrooms, on patios, and more
While you'll probably want to choose glass doors that have been frosted to provide you with privacy, many people are opting to hang glass doors in their homes. They add a modern touch and will make your home feel more open once they're in place.
If you would like to find a creative way to work glass into your home, Bent Glass Design can help! Call us at 215-441-9101 today to see how you can take advantage of our specialty glass services.