Glass technology has changed dramatically in recent years, and the avenues of creativity have broadened when using it to make stunning architectural pieces. Glass typically wasn't incorporated into the architecture of a building because architects, contractors, and designers didn't have a whole lot of options when it came to utilizing glass. However, the development of bent glass technology has changed the way we look at building structures and designs in our everyday life.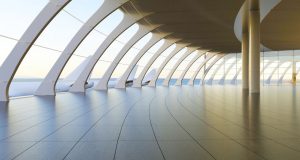 While creating curved glass used to be a very expensive proposition that wasn't always worth the investment, the latest bent glass technology makes using curved glass more affordable than ever. Tall glass curved skyscrapers to glass walls and showers in your home, there are a plethora of different ways to create modern-looking structures. A simple glass shower in your home can make a big difference in your bathroom. It looks nice, but also creates extra space to the human eye.
If you are looking to add something different to your home or business, bent glass designs can give you the attractive look you need to attract your house guests, customers, or clients. Whether you want to create something as simple as a decorative glass display case featuring curved glass or something as complex as a curved glass staircase, Bent Glass Design specializes in taking the plans for glass architectural projects and bringing them to life. We have seamed, pencil ground, pencil polished, flat ground with chamfer, and flat polished with chamfer glass, and we can use it to design the glass architectural pieces for your taste.
Bent Glass Design specializes in curved glass manufacturing, creating custom glass structures that is safe and reliable for you. We work with you to make sure your designs or plans can come to life in whatever place you want. Contact Bent Glass Design at 215-441-9101 for more information on how we can help!