Bullet resistant glass helps to protect against the penetration of bullets fired from small arms such as pistols and rifles. Bullet resistant glass is some of the toughest glass in the entire world. As a result, many different industries have found a way to incorporate bullet resistant glass into their operations.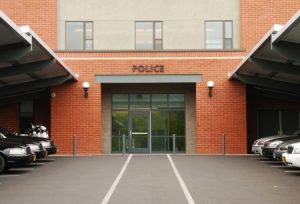 NIJ Ballistic Standards
The bullet resistant glass should meet these U.S. standards in order to satisfy the needs of the criminal justice agencies for high-quality service.  These are all the Ballistic Standards levels listed with different charts on type of weapon, test ammunition, and velocity.
The Banking Industry
The banking industry benefits from using bullet resistant glass because they contain a large amount of money. They are at risk any time of the day, so bullet resistant glass is a must. Having this glass installed will deter criminals from any attempt of robbery, and it keeps citizens and employees safe.
Police Stations
Police officers never know who is going to walk into their stations. So, many stations have installed bullet resistant glass that makes it easier for officers to accept visitors while protecting themselves. Bullet resistant glass is actually a relatively new in police stations, but now that stations are putting it in their lobbies, they're seeing the obvious benefits of having it.
Hotels
Hotels and motels are often open all night while people are staying there. This can create a safety hazard for employees and customers. Bullet resistant glass will make hotel employees feel safe as they interact with guests, no matter what time of the day or night it is.
Schools
Schools are starting to incorporate bullet resistant glass in entry ways to help protect against school shootings. The main value is to deter any criminal away from the school knowing that there is bullet resistant glass.
Bent Glass Design
At Bent Glass Design, we create bent laminated and insulating glass for the project of your choice with custom sizes and dimensions for your specific needs. We specialize in creating bullet resistant glass by using thick laminated glass and configuration along with flexible bonding interlayer. We take pride in the quality of our glass, assuring you that our bent glass is more than just visually appealing. Contact Bent Glass Design at 215-441-9101 today for our help on your next project.