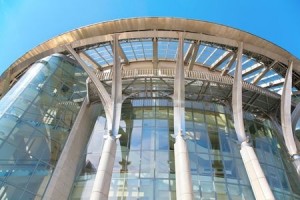 Did you know that psychological studies have found that people are more productive when exposed to natural light during their workdays? According to researchers in the Interdepartmental Neuroscience program at Northwestern University, employees who are regularly exposed to natural sunlight report that they sleep better at night, and experience fewer distractions and disturbances throughout the day. This is because sunlight exposure helps to regulate our natural circadian rhythms. When we aren't exposed to natural light during the day, our circadian rhythms get disrupted, resulting in feelings of exhaustion and depression.
By letting more natural light into your office, you can make sure your employees remain happy, healthy and productive.
Our custom bent glass designs offer an aesthetically-pleasing pleasing way to let extra light into a dark, windowless building. You can give your office an attractive makeover, while also making a great practical improvement to your workspace. Best of all, we can design a custom bent glass solution to accommodate the dimensions of just about any space.
For exterior applications, we can also use insulated bent glass to keep the temperature inside comfortable all year round. This type of glass is fabricated with two panes of glass separated by a sealed barrier of air. With insulated glass, you can let more natural light into your office without spending more on your energy bills.
Interested in adding a custom bent glass design to your office? Check out our gallery to see some of the work we've done in the past, and give us a call today to learn more.