When you think of Paris, a few key landmarks come to mind: the Eiffel Tower, the Arc de Triomphe, and most likely, The Louvre.
According to Paris City Vision, The Louvre is as famous for the paintings it contains as it is for its unique shape and façade: its transparent glass architecture, placed in the middle of a courtyard in the shape of a pyramid, is unique to say the least.
History of The Louvre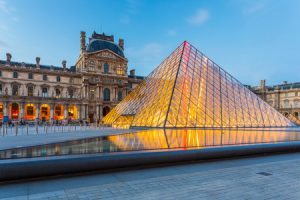 While the museum itself has been around for quite some time, The Louvre pyramid that we're familiar with today was commissioned and built by the President of France, Francois Mitterrand, in 1984—so it's probably a bit younger than you expected. The outside of the structure is only 71 feet tall, and is made entirely of glass panes in the shape of rhombuses and triangles, held together by architectural marvel and metal poles.
The unique building was designed by I. M. Pei, a Chinese-American architect, who is responsible for some of the most incredible modern buildings around the world, like the Javits Convention Center in New York City, the Hancock Tower in Boston, and the Bank of China in Hong Kong.
His work is inspired and often representative of the use of glass and steel materials, which is known as the "international style" in architecture, and originated in the 1920s and 1930s.
Masters of Trivia says that The Louvre is the largest and most visited museum in the world on a yearly basis, with almost 15,000 people entering its doors per day. And, it has one of the most expansive collections of Egyptian artifacts, with over 50,000 items on display on any given day.
Impeccable Design of The Louvre
The unique draw of The Louvre has as much to do with what's inside it—like the Mona Lisa, a portrait of a coyly smiling woman by Renaissance painter Leonardo da Vinci—as its unique exterior.
The glass design is modern, and juxtaposes in an interesting way with the very old items that are housed in the museum itself. Plus, the building of the pyramid itself is an architectural feat; after all, you can't use any old glass to create the exterior structure of a building.
To learn more about using glass in your projects, whether you're designing a museum for an international city, or simply redoing some exterior design on your home, give Bent Glass Design a call at 215-441-9101. When it comes to glass, especially for architectural purposes, we're the experts.