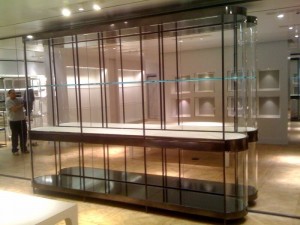 When we talk about bent glass, we typically focus on the architectural applications of our products. From high-rise office buildings to high-end residential properties, you can find our custom bent glass in buildings of all shapes and sizes. But the potential of bent glass doesn't end there. We've also used our skills and equipment to create elegant custom display cases for awards, honors and personal collections.
Maybe you're a professional athlete who wants to display their trophies and sports memorabilia. Or maybe you're a veteran looking for a place to exhibit your service medals. You might even be an antique toy collector who's running out of shelf space for your favorite items. No matter what it is you'd like to put on display, we can create a custom case that highlights your collection with stunning clarity.
We can design display cases to accommodate the size of your collection and the dimensions of your space. We can also include extra room for your collection to grow. A custom display case can either be freestanding, or it can be seamlessly integrated into a room in your home or workspace. We'll work with you to ensure your new display case is every bit as special as the pieces it contains.
If you need a new space to store your keepsake items, the talented team at Bent Glass Design can help. Give us a call today to speak with a designer about what you're looking for, or browse our gallery to get some ideas. We look forward to hearing from you!