Whether you are designing the exterior of a building or planning a grand staircase, architectural glass in modern architecture makes a statement.
Adding dimension and a lightness to the structure, you can find bent glass incorporated in many different architectural applications.
When designing architectural glass, there are many styles and variations to choose from using interlayers and artistic patterns.
What are Architectural Glass Interlayers?
Laminated glass is composed of multiple layers of bent glass bonded together by an interlayer.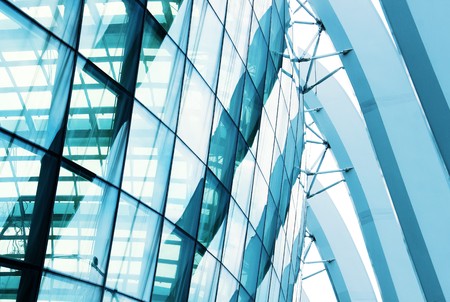 This interlayer allows the glass to be more functional, while still adding to the overall aesthetic and value of the architectural feature or building.
When hit with a force of impact due to a hurricane or attempted break-in, the interlayer within the glass will hold the cracked glass shards together.
When working on your current architectural project, the use of an interlayer with bent and shaped glass will several artistic opportunities as you design and create.
Adding Color to Architectural Glass
In the early 90s, innovators brought about more advanced color-blending technology, allowing us to offer the wide variety of colored glass options we have today.
It started with a few basic colors that were then combined to make thousands of unique colors that sat nicely within the interlayer of architectural glass. Whatever custom hue you desired could be crafted and produce architectural glass tailored for your needs.
Today, we have even more freedom and flexibility with colored architectural glass, having a plethora of the basic colors to choose from and layering each to create a hue that you would never find on the shelves.
Variations of Color
We offer a wide array of colors to customize your architectural glass without affecting the clarity. Through a tasteful combination of colors, you can control the translucency of the glass, as well.
There is a foundational palette of base colors that all the color variations start with. Most common are the shades of grey and white.
From here, the different color interlayers, along with different intensity levels, combine and transform into thousands of color opportunities, giving you the freedom to create without boundaries.
Incorporating colors into your architectural glass also allows you to establish a specific ambience and draw the eye in to the small, but compelling details of your project.
Translucency & Opacity
With specialty colors, you have the option to choose how much light you'd like to allow to pass through your architectural project. There are many levels of translucency, building all the way up to full transparency.
Artistic Patterns in Architectural Glass
When designing with glass, it is not only about the color and flexibility of the material; it is about the pattern and texture of the glass itself.
Textured glass helps to control the level of transparency and affects how light passes through it, creating a more diffused look.
Whether you are designing for a residential or commercial application, our specialty glass holds a vast array of benefits:
Enhances visual ambience
Reduces transparency while increasing privacy
Allows for more natural light without intrusion
Improves energy-efficiency
For all of your architectural glass needs, turn to Bent Glass Design. We are experts in creating the most advanced and elegant bent glass designs in every shape, size, and color.
Request a quote today!